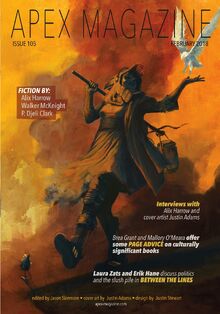 "A Witch's Guide to Escape: A Practical Compendium of Portal Fantasies," by Alix E. Harrow. Published in Apex #105, February 2018.
Read it here.
----
He smelled of a thousand secret worlds, of rabbit-holes and hidden doorways and platforms nine-and-three-quarters, of Wonderland and Oz and Narnia, of anyplace-but-here. He smelled of yearning.
God save me from the yearners. The insatiable, the inconsolable, the ones who chafe and claw against the edges of the world. No book can save them.
(That's a lie. There are Books potent enough to save any mortal soul: books of witchery, augury, alchemy; books with wand-wood in their spines and moon-dust on their pages; books older than stones and wily as dragons. We give people the books they need most, except when we don't.)