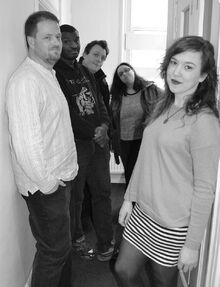 Erratic and chaotic British fannish podcast. Brave New Words format is simple; the show's host tries to review a genre novel, their friends attempt to stop them.
Best known for their live shows, which has authors and co-hosts attempt to stop someone from getting to the end of the book news.
They keep getting nominated for things (they aren't sure why) and never seem to win anything. This has become a running joke. The show comes from Manchester, England.
Can be found on iTunes here
Ensemble cast includes Russel Smith, Ed Fortune, Ninfa Sferlazzo-Hayes, Ross O'Brien, Rebecca Derrick and Producer AL. Regular author guests include RJ Barker and Claire North.